Mild Steel Round Bars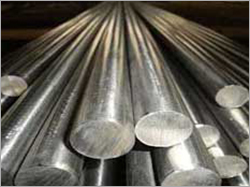 Mild Steel Round Bars
Price And Quantity
Metric Ton/Metric Tons

60.00 - 90.00 INR
Product Description
We are one of the main manufacturers of an unlimited cluster of Mild Steel Round Bars. Fabricated utilizing top notch gentle steel, these bars are in adherence with worldwide quality norms. Accessible in different distances across, these bars are broadly utilized for designing segment, manufacturing commercial ventures, establishment jolt and shafting. Our array of Mild Steel Round Bars is all around acclaimed for features , such as, consumption and scraped area safe, no support required, solid and so on.
Technical Specification :
MS, SAE 1018, SAE 1008, SAE 1010, IS 2062, A-105, LF2, EN-19/SAE-4140, EN-24, EN-31/SAE-52100, 20MnCr5, EN1A, EN-8D, EN-9, SS etc.

Grades

Classification

IS

EN

DIN

AISI/SAE

Mild Steel

IS2062, 2830, 2831, 15C8, 20C8, 25C8, CL-I, CL-II

EN-3B, EN-32B

CK-15, CK-20, CK-25

1008, 1010, 1015, 1018, 1020, 1025

Medium Carbon Steel

30C8, 35C8, 40C8, 45C8, 50C8, 55C8, CL-III, CL-IV, CL-V

EN-8, EN-8D, EN-9

CK-30, CK-35, CK-40, CK-45, CK-50, CK-55, CK-60

1030, 1035, 1040, 1045,1050, 1055, 1060

Grades - Alloy Steel Round Bars

Popular Grades offered for Round Bars under the Alloy Steel category are as follows

Internal Standard

Equivalent Grades

BS

DIN

IS

EN

SAE/AISI

EN18

530A40

37Cr4

40Cr1

EN18

5140

EN24

817M40

34CrNiMo6

40NiCr4Mo3

EN24

4340

EN19C

709M40

-

40Cr4Mo3

EN19C

4140, 4142

EN19

709M40

-

40Cr4Mo3

EN19

4140, 4142

EN18D

530A40

37Cr4

40Cr1

EN18D

5140

EN18C

530A40

37Cr4

40Cr1

EN18C

5140

EN18A

530A40

37Cr4

40Cr1

EN18A

5140

27C15

-

28Mn6

27C15

-

1527

20MnCr5

-

20MnCr5

20MnCr1

-

-

20Mn2

150M28

-

20Mn2

EN14A

1524

16MnCr5

-

16MnCr5

17Mn1Cr95

-

5120

EN18B

530A40

37Cr4

40Cr1

EN18B

5140

SAE8620

805M20

-

20NiCrMo2

EN362

8620

SAE8622

805M20

-

20Ni2Cr2Mo2

-

8622

EN353

815M17

-

15NiCr1Mo12

EN353

-

EN354

820M17

-

15NIVCr1Mo15

EN354

4320

15Cr3

523A14

15Cr3

15Cr65

EN206

5015

EN24

817M40

34CrNiMo6

40NiCr4Mo3

EN24

4340

17Cr3

-

17Cr3

-

-

-

40Cr4

41Cr4

41Cr4

40Cr4

En18D

5140

34Cr4

34Cr4

34Cr4

-

En18

5130
Grades - Carbon Steel Round Bars

Some of the popular grades offered for Round Bars under the Carbon Steel category are as follows

Internal Standard

Equivalent Grades

BS

DIN

IS

EN

SAE/AISI

EN15B

150M36

36Mn5

37Mn2, 37C15

EN15B

1536

EN32B

-

CK15

C14

EN32B

1015,1016,1018

1038

-

CK38

-

-

1038

EN43C

-

-

C50

EN43C

1050

CK45

-

CK45

45C8

1045

-

EN9

070M55

CK55

C55

EN9

1055

C35

-

C35

35C8 , C35Mn75

-

1035

EN42

-

CK75

80C6

EN42

1074

EN42B

-

C67

65C6

EN42B

1065

EN43

080M50

C55

60C6

EN43

1055

EN43B

080A47

CK45

-

EN43B

1045

EN8















Grades - Low Carbon Steel Round Bars

Some of the popular grades offered for Round Bars under the Low Carbon Steel category are as follows

Internal Standard

Equivalent Grades

DIN

IS

EN

SAE/AISI

SAE 1008

-

-

-

-

SAE 1010

CK10

C10

-

SAE1010

SAE 1018

CK15

C15Mn75

EN32B, EN32C

SAE1018
Round sizes in mm : 16,18,20,21,22,24,25,26,27,28,30,32,34,36,37,38,40,42,44,47,50,53,56,60,63,65,71,75,80,85,90,100,110,120,125,130 mm
Round Corner Square (RCS) or Rolled billet sizes in mm : 65x65,75x75,90x90,100x100,115x115,115x125
Square Sharp cornered sizes in mm : 40x40,42x42,50x50,53x53
Hex sizes in mm : 24, 27.5, 28.5, 29.5, 32, 34, 38, 40, 43, 48, 53, 57, 63
Bright Bars :

| | |
| --- | --- |
| Round | 14 mm to 76 mm dia |
| Square | 25 mm to 50 mm |
| Hex | 22 mm to 60 mm |
Tolerance

Black Bar

As per IS-3739 grd II std

Bright Bar

As per ISO H8, H9, H10, H11 also as per ASTM A484, DIN 17440, 671 or as per mutual agreement.

Length

Black Bar

3 to 6 meters +0.1 mtr

Bright Bar

3 to 6 meters +0.1 mtr tolerance or as per Customer's Requirement

Straightness

Black Bar

5mm / mtr.

Bright Bar

< 1 mm / mtr or as per Mutual agreement

Mechanical Properties

Black Bar

As per ASTM or DIN

Bright Bar

ASTM, DIN or As mutually agreed upon.

Delivery Condition

Black Bar

Hot Rolled - Straightened
Hot Rolled - Annealed - Straightened
Hot Rolled - Soln. Ann. - Straightened

Bright Bar

Drawn - Polished
Drawn - ground - polished
Peeled - Polish
Peeled - ground - polished